Winter is pretty much the only thing that can keep a New Yorker indoors. Even with the polar vortex and the occasional cold-weathered monsoon, though, getting out every once in a while is still necessary - you just want to make the best of it. That's where seeing a show comes in handy. We live in the entertainment capital of the world – there's literally always something to see. From IMAX movies to live jazz to comedy clubs to the one and only Broadway, we've got it all. Even better, we have off-broadway which is just as fabulous and generally a bit less expensive. On top of it, pre and post-theatre bites and cocktails lie on every corner. So, once the holiday madness is over and you've had your fair share of consecutive weekends spent seamless-ing and Netflix-ing in bed, go ahead and plan the following evening to treat yourself!
Note: This is also a great itinerary to give your significant other or family member (ahem, mom) as a Christmas gift or a birthday present. I'm really big on experience gifts. Otherwise, you could always plan a night like this with a few of your closest friends as a nice mid-winter plan to look forward to!
Rafele
Look, even if you're not going to a show afterward, you must try this place out. It is unbelievably good, reasonably priced and it must be fairly new as it's not even rated on Zagat yet. Though, it does have 4 stars on Yelp which is kind-of/almost more reliable than even Zagat (I know, GASP. The nerve I have sometimes.) We arrived for a 5:30 reservation and, within half an hour, the restaurant was full. The décor is the right mix of warm and vibrant with lots of wooden tables, high ceilings, an open kitchen and carefully crafted lighting. The mood is energetic yet not overbearing (i.e., you can hear your table's conversation just perfectly, but not the table's next to you). Seriously, they do a great job, here. Then, there's the food! Since this was pre-show and we had plans for post-dinner drinks and bites, we opted to go family style. Not everything is pictured below because it was so good I blacked out before I could capture all the right pics. Wine and sangria complemented the menu…
· Homemade Sausage & Broccoli Rabe Pizza
· Lightly Fried Arancini
· Burratta with tomatoes and zucchini (*Special*)
· Grilled Octopus
· Fried Calamari
· Housemade Spinach & Ricotta Ravioli
P.S. The bread basket and eggplant caponata that they serve immediately could easily have a place on the menu.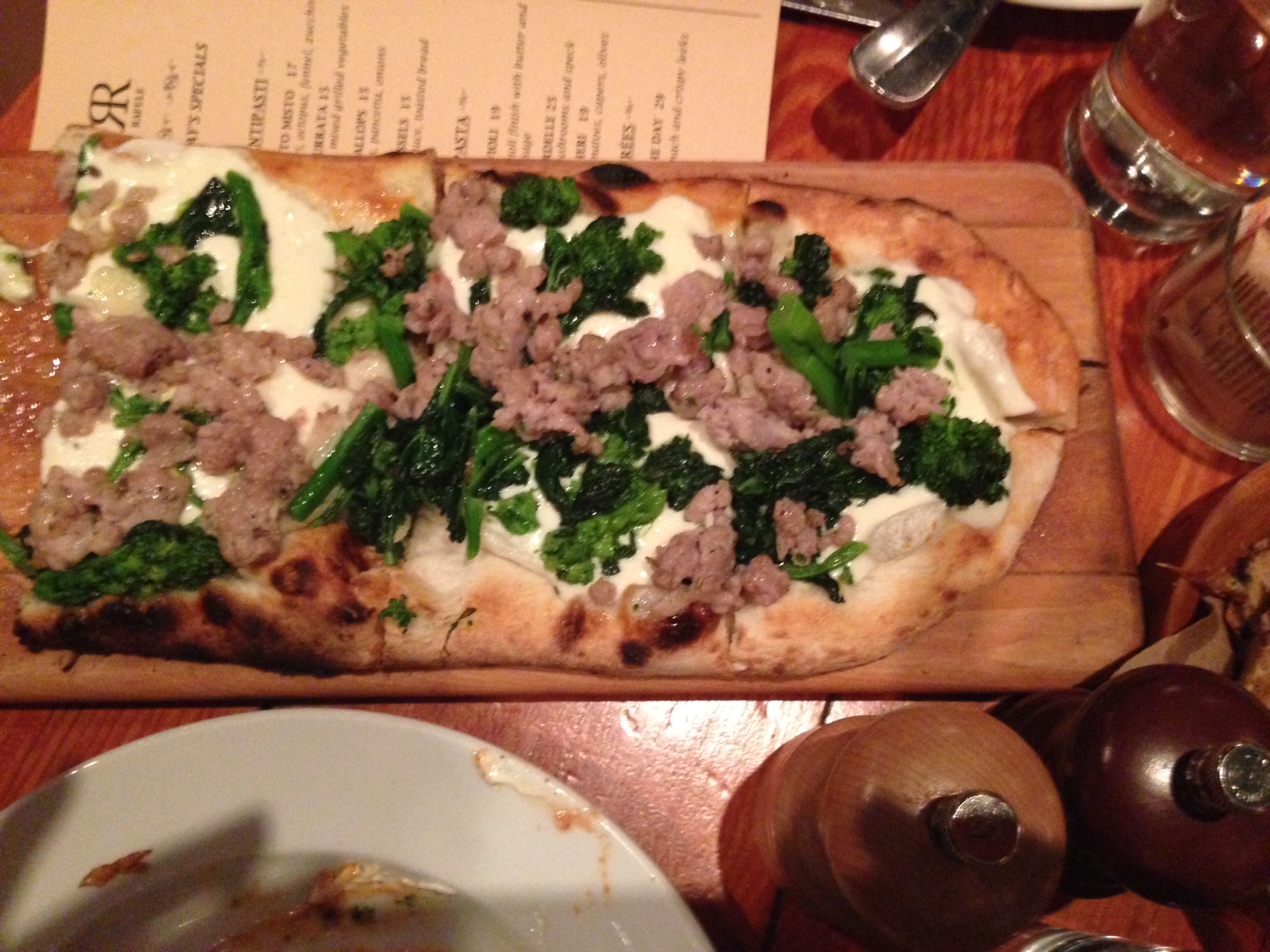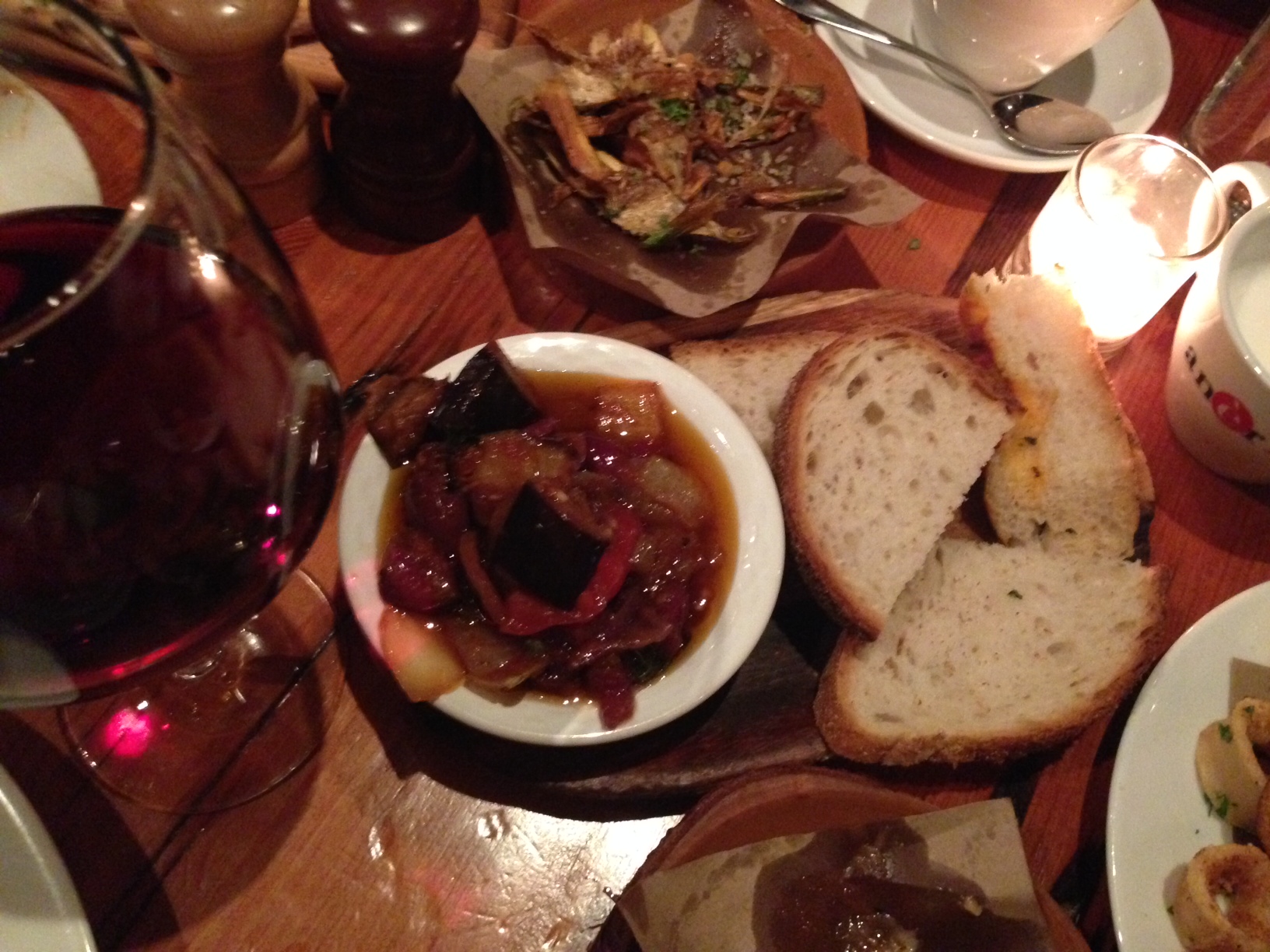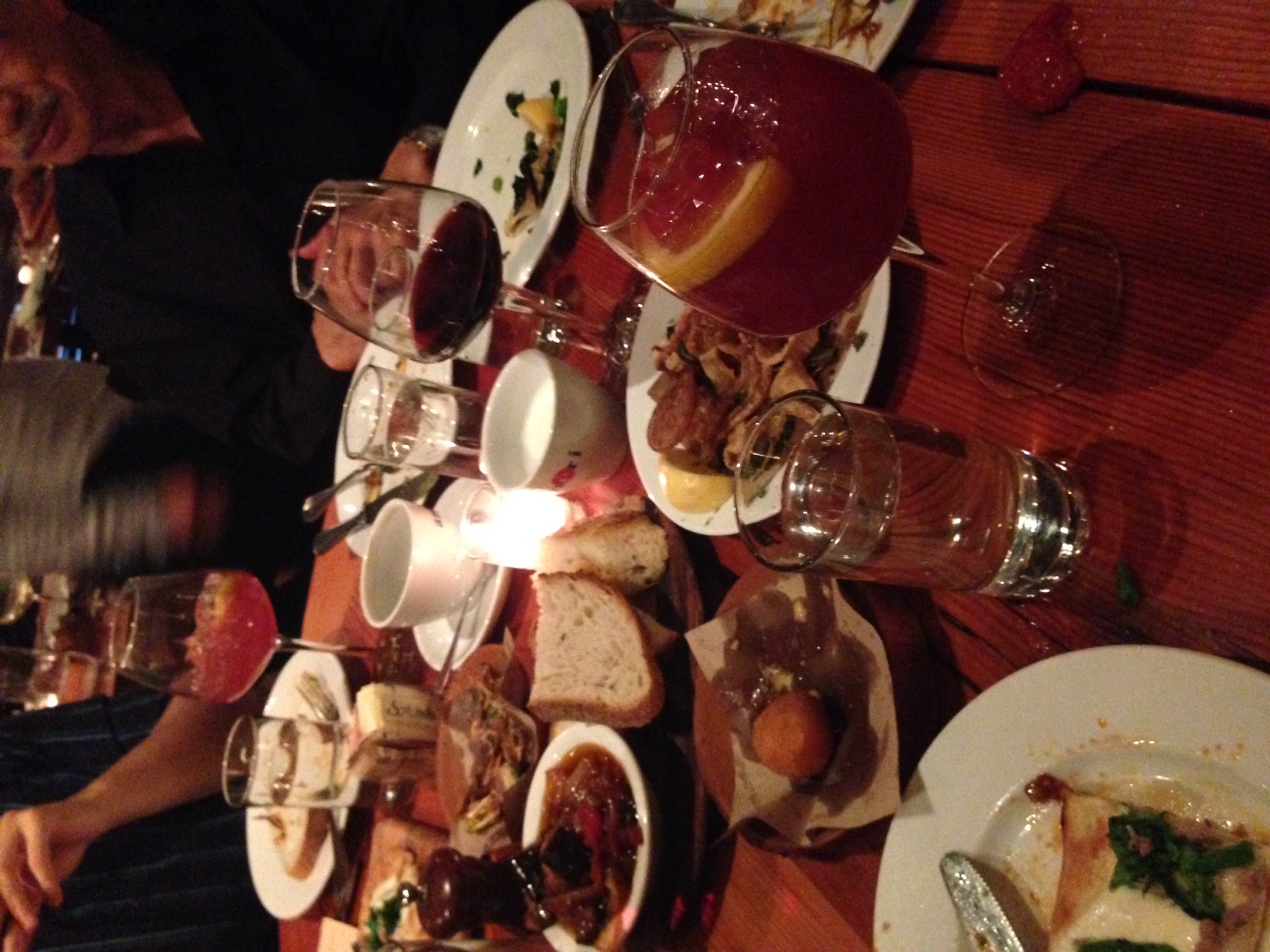 Cherry Lane Theatre
Cherry Lane Theatre in the West Village (which I once mentioned here) is the oldest operating Off-Broadway venue in the city. Currently, the theatre is celebrating its 90th year, so they've been amp-ing up their schedule even more. In case you didn't know, Off-Broadway simply refers to a smaller theatre capacity (between 100-499 seats). So, don't get it twisted. The shows and performers are just as spectacular. We went recently for my Mom's birthday and were able to catch Joy Behar who was both poignant and also a total riot. She does a 90-minute set detailing her upbringing in Brooklyn and her very slow, difficult rise to fame. There were a lot of obstacles on her road to success and it was very inspiring to listen to her account of them. It was pretty much the American dream summed up by one badass Italian chick born in the 40s.
Commerce

After the show, we had a 9PM reservation directly next door (literally, steps) at Commerce Restaurant. Thank goodness we had a reservation – not only because it was raining out, but also because this place was chaos. Even before the theatre crowd filtered over, the restaurant was packed. Commerce is just one of those hidden neighborhood spots that boasts tremendous food and drink in a new and happening-for-the-moment spot. It's a favorite hang for locals and theatre-goers alike, which makes it a very busy and exciting place to be. My mom put it best when she described it as "a bit sensory overload." It's loud.

As packed and loud as it was, we were still treated wonderfully by the host, seated immediately, and taken care of by wait staff. Furthermore, I consider a buzzing energy around 9PM on a Saturday to be a good thing, even if it is a bit much.

The cocktails here were fantastic. We started off with a round of those (an Old-Fashioned and a Tequila Stinger w/ Honeycomb, pictured) a nice refreshing salad and 1 ½ dozen oysters for the table. But, then, comes the real kicker: the Porterhouse. Served with cipollini onions, creamy kale & red wine, shallot steak sauce, this steak was to die for. And I know I love my food, but I really don't say that often.