So. I'm obsessed with the actual "Jersey Shore" and I have a past of being very outspoken about it. Personally, I find this to be completely normal. Not only is Jersey a lovely, dynamic place, but it's also where I'm from. And, aren't most people proud of where they're from?
I grew up at Takanassee Beach Club in Elberon and, while Tak has since closed (#RIP), I still return each summer to spend weekends in Deal and Asbury Park with my family and friends. To me, the Jersey Shore has always just been home – a string of happy, little beaches filled with the brightest, childhood memories possible and interspersed with some of the best Italian food in the world. As I got older though, I quickly realized that – shocker, you guys – not everyone loves New Jersey! In fact, some people really hate us.
I couldn't comprehend this at first. In college and abroad I would always be asked the staple getting-to-know-you question from various guys, "where are you from?" When responding with anything along the lines of "New Jersey" or "the Jersey Shore," though, I received everything from laughter to hatred to the haughtiest of apologies for having come from such obvious trash.
Smooth, bros.
It seemed so utterly stupid to judge an entire state and its people off of one stereotype that, mind you, comes from people that are not even from New Jersey! More bothersome, though, was that I couldn't fathom how someone could deem it appropriate and acceptable to bash someone's answer to the question "Where are you from?" I mean, isn't exercising verbal restraint regarding judging another's home or cultural background LITERALLY RULE NUMBER ONE in having any semblance of manners?
But, alas, I digress. This post isn't for the haters, but for the lovers - and to them, I say welcome! Welcome to the Jersey Shore…the greatest country in the world.
Where To Stay
The Berkeley Carteret if you're looking for modern luxury. The Berkeley is a 100 year-old hotel of Victorian style and grandeur that sits atop the famed Asbury Boardwalk. It is so large and sprawling that it can comfortably host large wedding parties without interferring in your small, romantic retreat.
Tides Hotel if you're gay. And fun. Tides is plenty of both, not to mention utterly charming.
The Empress Hotel also if you're gay. However, not a requirement. The Empress has been around fo'eva, having sunk in and rose up with the tides of Asbury's economy over the years. A resort that once hosted the likes of Liza Minelli and Judy Garland and graced the cover of Springsteen's records, The Empress is as iconic and special to the town as Jersey's unspoken mascot, tillie.
Where to Eat
Toast - for dressing up and going to a delicious brunch with friends
Porta - for not dressing up and going to brunch for $10 bottomless mimosas. Also, for phenomenal brick oven pizza. Also, for roofies maybe. More on this later.
Frank's Restaurant – for the most authentic porkroll egg and cheese you'll ever have. Cash-only and I would recommend take-out.
Goldie's – for vegan selections or something simply more on the healthy side, accompanied by gorgeous décor in the heart of the arts district.
The Sunset Landing – for feeling as if you're in Grandma's Hawaiian kitchen. A (very) small mom n' pop place with an open kitchen and surfboards hanging from the ceiling, The Sunset Landing resides on the Asbury Park lake where you can feed the ducks while sipping carrot ginger juice.
Langosta Lounge – for seafood/sushi accompanied by live music and boardwalk seating
Cubacan - for date night with contemporary cuban with latin fare on the hottest spot on the boardwalk.
Where to Go Out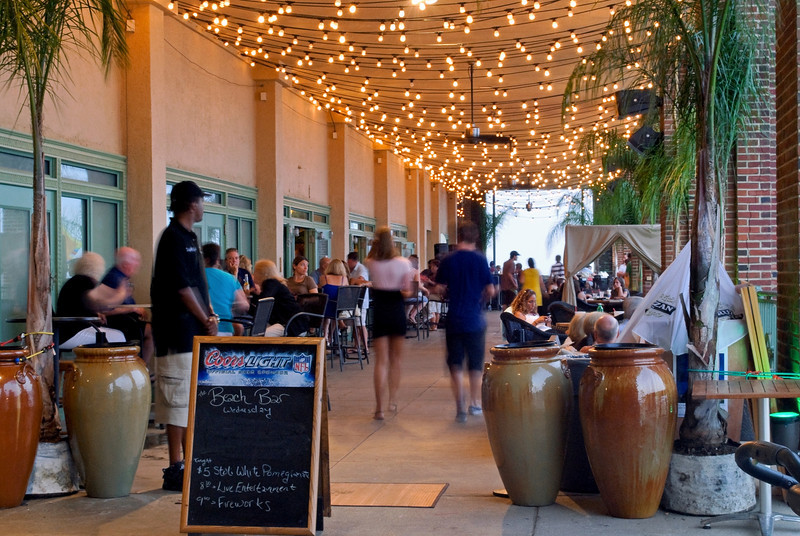 Watermark - for the first drink of the trip at least. This cocktail lounge is set in the heart of the boardwalk across from the aforementioned, famed Empress and overlooking the Atlantic Ocean. The unique cocktails are deliciously crafted by attentive staff in a relaxed, open setting with crisp white lounges and modern couches that you don't have to pay $1000 to sit on. Imagine that!
Beach Bar - for the rum buckets! A great spot to get tuned up with a big group of friends, slightly more north along the boardwalk. While there is some roof coverage, it is pretty much entirely outdoors. Anchor's Bend is right around the corner and generally has live music for a quick visit or change of scene.
Porta - for the experience. Porta is an old-warehouse-turned-gorgeous-three-space-bar with outdoor seating, high-lofted ceilings and a boom-boom-room like no other. It's drawn quite a lot of attention and criticism regarding its rowdiness which makes it, unfortunately, an attraction for fist-pumping visitors. Clearly, though, visitors aren't the only ones patronizing the bar regularly; it's a locals hang as well. Just watch your drink, as the place is rumored to be a roofies hub, and we all know there's nothing like a good 'ol roofie to spoil your day.
Johnny Mac's - for the free pizza ALL day EVERY day. Also for the "Irish Village" decor and late-nighting since it tends to stay open until 2-2:30 whereas most local bars close around 1:30 instead.