Last week, I brought you to PDT down in the East Village, aka my favorite speakeasy to date. While it is easily the most well-hidden speakeasy with the best drinks, it's also the most well-known and so, not surprisingly, the toughest to get into. So, that being said, there are a few other hot contenders I'd like to share.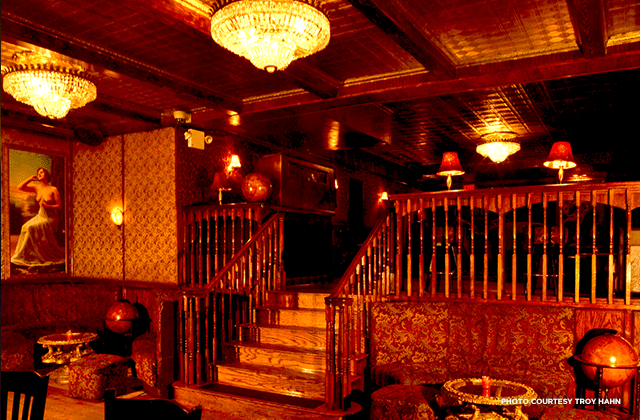 Back Room: Back Room is an actual operating speakeasy from the 1920s where the likes of Lucky Luciano hung out for "business meetings." I've never experienced a wait here and it's great for groups. The velvety-fireplace-gentleman's-living-room vibe has a low-key allure to it. And the novelty of having your drink served in a tea cup/paper bag doesn't wear off. Located somewhere on Norfolk St., this is one place that I've been to three times and each time I have trouble finding it. Look for the guy in a long black jacket posted up by an alleyway down a set of stairs. Oh, and keep an eye out for celebs, they love it here.
Blind Barber: Located on East 11th, the Blind Barber is a little easier to find than most speakeasies since there's always a line outside of it. Blind Barber actually operates as a barber shop during the day. Guests walk through a barely-lit barbershop and a secret door opens to boisterous party area. You'll get in eventually - you just have to wait (or throw the bouncer a $20). Once inside, the DJ plays awesome throwback hip-hop and there's a small room in the very back that's been converted to a library for those of a more quaint persuasion.
Employees Only: Tucked behind a Psychic's curtain, Employees Only lies in my beloved West Village on Hudson Street. Matt took me here three long years ago and I was totally smitten - you know, with the bar ;). This place is best for dates - it's small with lots of sit-down tables and the food is just as delicious as the very well-touted cocktails. However, the bar area definitely gets brimming, too, so I wouldn't rule that out. Plus, it's in the West Village, so #win.
Know any speakeasies we missed!? Comment below!