I recently had the luck and pleasure of staying in Brooklyn for a wedding and, subsequently, an eat-and-drink-filled weekend. Naturally, most of the stops and shops were set up or recommended by the bride and groom. As it happens, however, this particular bride and groom are trusted locals and esteemed foodies.
The weekend, in a word, was delectable. And after I found myself daydreaming at work about craft cocktails and olive-oil drizzled crostini, I realized that their picks were simply too spectacular not to share.
While we stayed in Brooklyn for the entire weekend, the recommendations below would also fit comfortably into a single Saturday evening. So, if you're planning some time in Brooklyn, here's how you may want to spend it:
Where We Stayed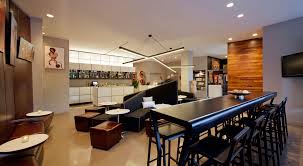 Nu Hotel
While the word "cozy" generally tends to be an NYC cover for "closet-sized," the Nu actually delivers on the vibe. The maze-like hallways give way to a sought-after sense of privacy and the locally-commissioned artwork illuminates the walls in Brooklyn culture. The small, sleek bar and home-baked cookies in the lobby also add to the ambiance. Located on Smith St. and Atlantic Ave., the area is brimming with shops, bars and eateries.
Being Manhattan-ites, we were slightly surprised at how much was closed after midnight (you mean to tell me I can't get Chinese food delivered at 1 a.m.? Then again, perhaps for the best.). Additionally, the noise dies down significantly after midnight; so significantly, in fact, that we were able to sleep in until NOON on our second day. Yes, noon. Win.
Where We Ate & Drank
The Night began at Franny's in the Park Slope/Prospect Heights neighborhood. We sat in the cozy (seeing a pattern, here?) wood-covered wine cellar and were treated to a feast. The assortment of crostinis, savory mushroom pizza, perfectly-cooked Stone Bass and leeks were especially stand-out. Best of all, though, was the cacio e pepe.
Apparently, cacio e pepe is not a chicken dish and why I have assumed so my entire life is beyond even my own comprehension. After all, the words literally translate to "cheese and pepper." Nonetheless, this kosher salt and peppered, parmesan, pecorino covered pasta (try saying that 3 times fast) was pure loveliness. This simple dish was, hands down, one of the top 5 pasta dishes I've ever eaten in my life, which includes my Jersey upbringing and international travels to Italy.
After five courses of fragrant goodness, we wrapped up at Franny's and Uber'd our way down Flatbush Ave. Far from being the title of a poorly-made 1980's porn flick, Flatbush actually the name of a major traffic artery that traverses through Brooklyn. The route will lead one to the Brooklyn Public Library, the new Barclay's Center, the famed botanical gardens, Prospect Park and more. It also gives one a glance at the various cultures and cuisines that reign amongst the area.
As for us, we maneuvered our way back over to bustling Smith Street and arrived at the Clover Club. At 10PM on a Thursday, the neighborhood was alive and the cocktail lounge was, too.
The lounge's atmosphere draws from Clover Club's (originally a club of journalists) motto "who enters here leaves care behind, leaves sorrow behind, leaves petty envies and jealousies behind." Have one strong and delicious drink, here, and you'll have no problem leaving anything behind – luggage included, if you're me.
The drink menu is uniquely expansive and impressive, but the bartenders are even more so. Stalled by indecision, I simply asked the bartender to make me her favorite vodka cocktail. It was superb.
The rest of the weekend was spent enjoying the celebratory occasion at the Prospect Park Boathouse where romance met revelry. Friends and family made the most of their free time in Brooklyn by walking the legendary Brooklyn Bridge, visiting the Brooklyn Museum (where an Art of the High Heel exhibit is currently on display) and bopping around town.
A short ride from Manhattan, but a long cry from its stressors, Brooklyn - when done right - is sure to please.
Note/Extras: The Williamsburg Film Festival was running that weekend, as well, and live music is always aplenty. Mexican fare from OMG Taco was the perfect late night snack. And, finally, the one regret I have is not visiting Sheltsky's Smoked Fish for raved-about nova sandwich.