Square footage doesn't come cheap in NYC, so you have to make the best with what you've got – that's a given. When I first moved into the city a few years ago, two other girls and I rented out a large, corner-unit 1-BR in a luxury high-rise and had fake walls installed to partition off extra living space, thereby creating two extra bedrooms. We ordered industrial sound-proof foam and shoved it into the mandated three-inch gap between the ceiling and the top of the fake wall. Unseemly, but more private.
In most cities, this is considered ridiculous. In New York, it's business as usual.
After two years in Midtown with various roommates, a different New York felt necessary. I set out, searching and Craigs-listing (still one of the best ways to find no-fees) and then something magical happened: a studio apartment in a walk-up on the Upper West Side for only $1550 a month appeared! It seemed too good to be true, so I assumed there was a catch. I imagined a missing kitchen or a shared bathroom scenario. My boyfriend, however, encouraged me to give the number a call and set up a viewing.
And what do you know? The listing was legitimate. In 24 hours, I viewed the apartment, provided the proper paperwork and security deposit necessary and the apartment was mine!
Of course, no piece of real-estate, rented or owned, makes for a perfect, fairy-tale ending in NYC. In this case, I moved from a brand-new, luxury high-rise in Midtown to a 200 year-old walk-up studio on the neighborhood-friendly Upper West. While the walk-up is charming and the studio appeals to my inner romantic, it also comes with its own set of issues. At $1550 a month, I had to tighten up my budget in a few other places and make trade-offs to ensure I could live comfortably while still saving. That was first and foremost.
Additionally, I've dealt with a leaky shower, no A.C. and, yes, my very first encounter with a nearly palm-sized roach. Not much can prepare you for the hairy eyes and tentacles of a New York City floor. The final "minor" detail is that the studio measures at just under 200 square feet. But, hey, I'm pretty small too, so this factor didn't faze me so much as it propelled me to design the space in an appropriate and affordable manner – which I am not ashamed to say I successfully achieved ;-).
So come on in and check it out...
I aimed for a clean, organized feel for the apartment, but I know myself, and I need to get my clutter on here n' there. Hence, my make-shift "Entry Way" starring my best friend's art, a collection of purses, hand-made hair pieces and some practical shoewear.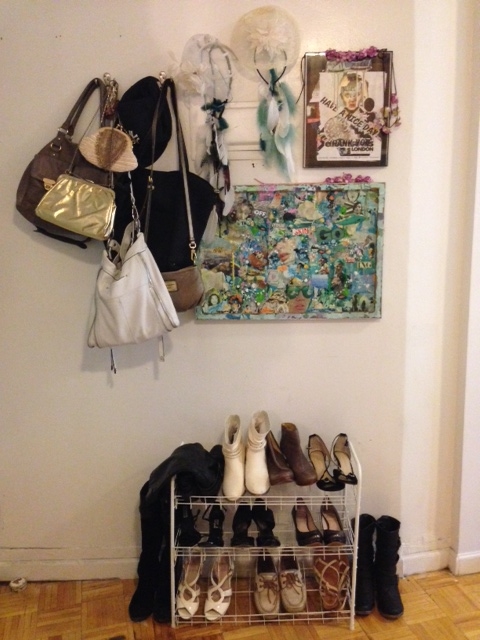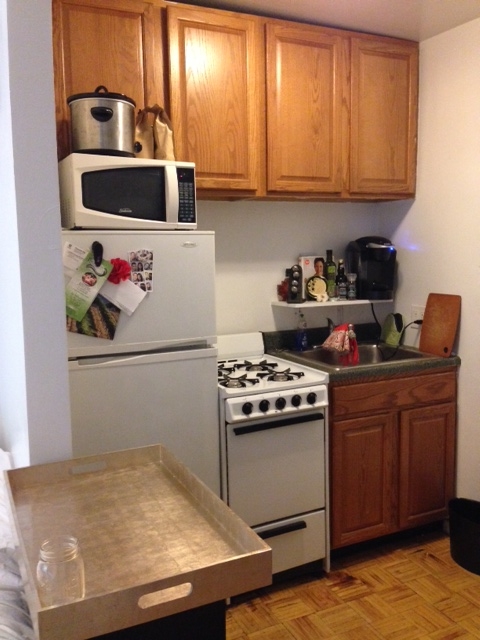 As you walk two steps further into the apartment - or, ahem, the foyer - you're lead to a cozy little corner that sports my Grandfather clock, wine rack and mirror. I could use more wine.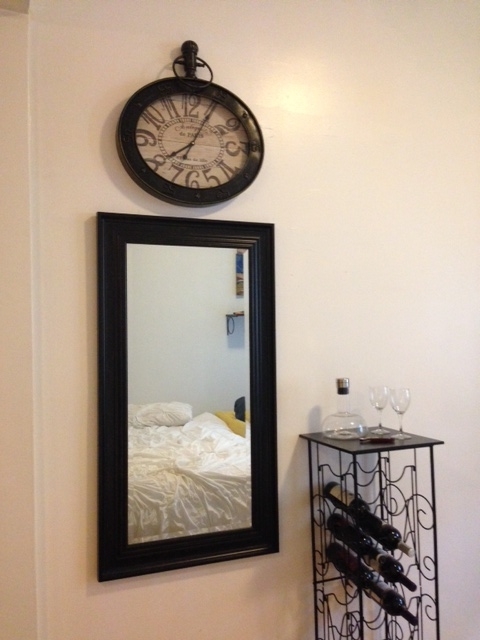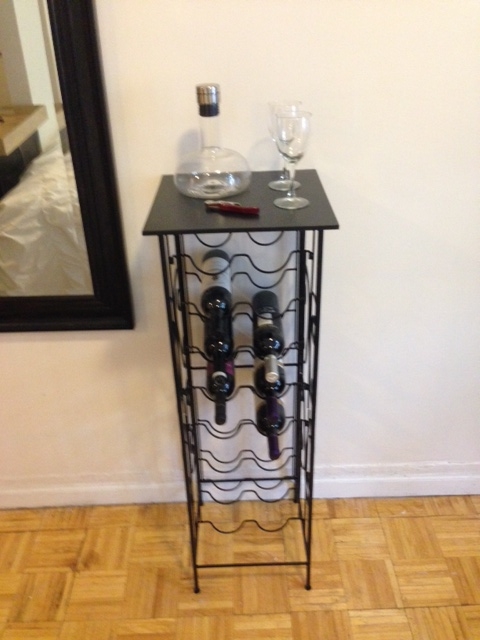 Since the bay window serves as a beautiful focal point upon entrance into the apartment, I wanted to frame it with billowy curtains - this also does a great job at drawing one's eyes up to the high ceilings ( a rarity in Manhattan). Though I generally prefer to keep the curtains down as it feels more dramatic and draws a soft divide between spaces, separating them makes the apartment feel more open and highlights the lovely treehouse view outside.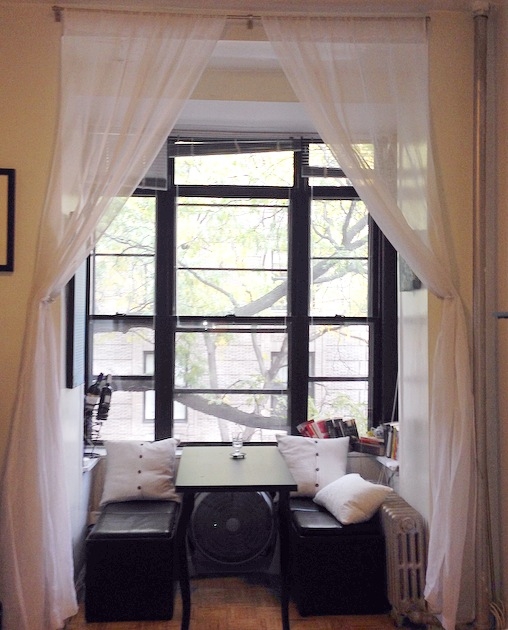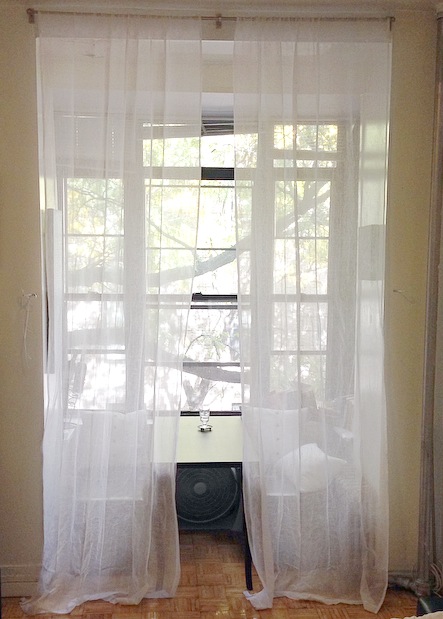 I wanted to create a tranquil atmosphere that I felt both relaxed and inspired by. My bay-window nook serves this purpose wonderfully. I can get my writing done from here, serve dinner for 4, or just hang out with a glass of wine and a good book.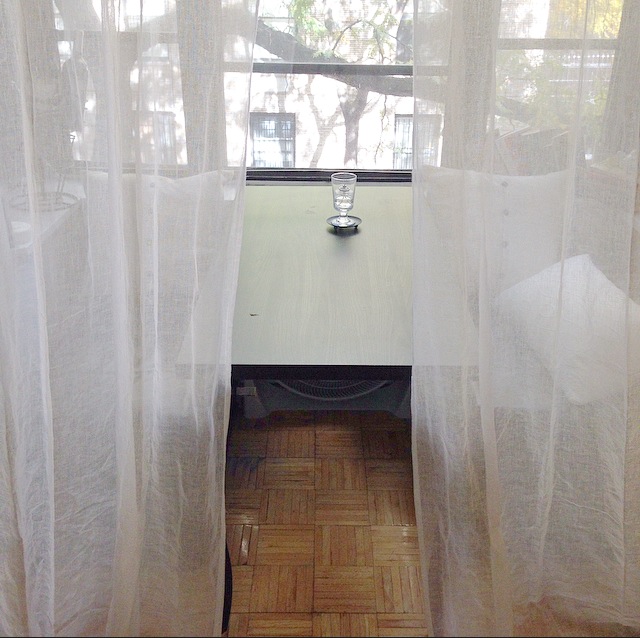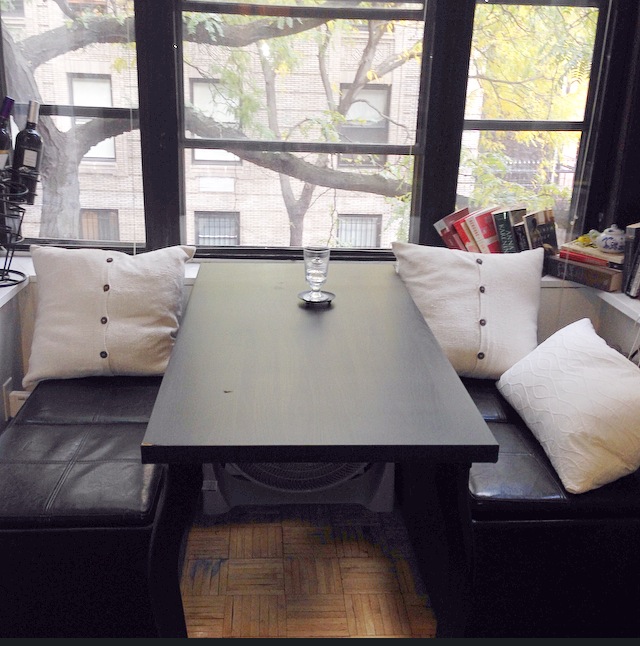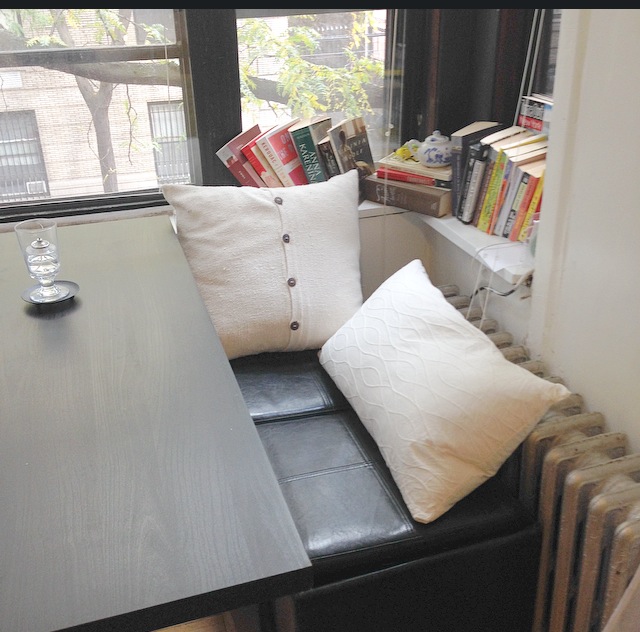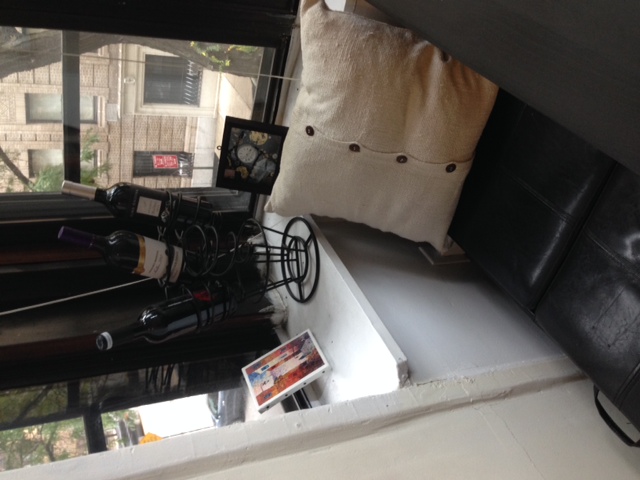 Between my "dining room/writing nook" and my "bedroom" is my "living room" space. It serves as a great place to veg out and watch TV. I wanted a pop of color to keep the room bright, so I got a yellow couch and pulled the space together by featuring another dear friend's artwork center-stage. I am a big fan of maps, so I catty-cornered the TV with these two antiqued ones of Paris and Manhattan that were gifts from my best friend. When on a budget, it's still easy to feel rich by surrounding yourself with gifts and keepsakes from friends and family.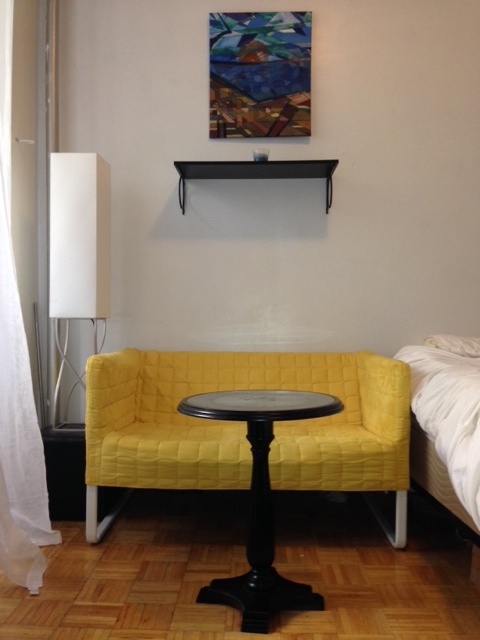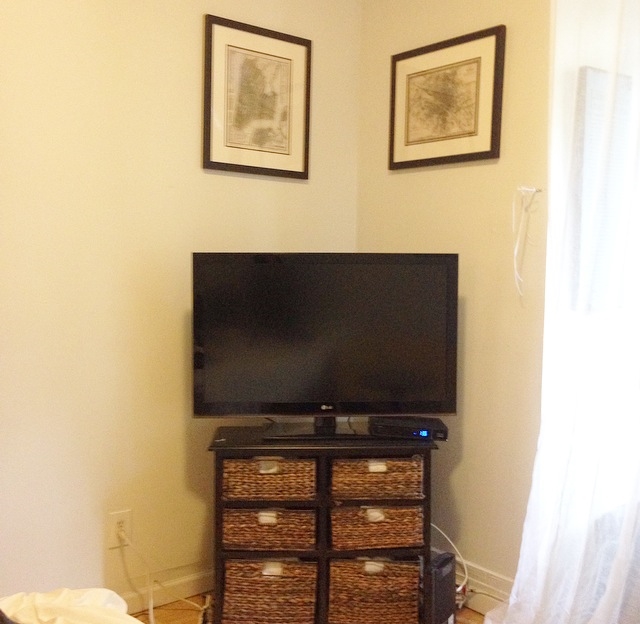 And finally, in a micro-studio, a made bed can be the difference between a messy looking room and a clean one. So, I keep my sleeping space uncluttered with crisp, all-white bedding. Additionally, the wall behind my bed is the one space that I keep completely free of anything. This way, my mind is free to wander and feel at ease without distractions while I sleep ;-).